From Gratitude to Growth: Thanksgiving Promotional Product Ideas for Businesses
As the holiday season approaches, businesses are seeking unique ways to express their gratitude and foster growth.
Imagine a scenario where a small coffee shop sends personalized Thanksgiving-themed mugs to their loyal customers, creating a sense of belonging and appreciation.
In this article, we will explore a range of Thanksgiving promotional product ideas that can guarantee and help businesses deepen customer loyalty, drive engagement, and ultimately fuel growth.
From customized gifts to practical items, get ready to discover innovative ways to show gratitude and make this Thanksgiving truly memorable.
Customized Thanksgiving-Themed Gifts
Explore the benefits of incorporating customized Thanksgiving-themed gifts into your business's promotional strategy.
Thanksgiving is a time of gratitude and coming together, and what better way to show your customers that you value their loyalty than by gifting them with personalized items that celebrate this holiday?
Custom Thanksgiving promotional products, such as logo-engraved serving trays, branded oven mitts, or Thanksgiving-themed apparel, can serve as impactful promotional items that not only showcase your brand but also create a sense of belonging and appreciation among your customers.
By offering these customized gifts as giveaways during the holiday season, you not only strengthen your brand's visibility but also foster a deeper connection with your customer base. This thoughtful gesture demonstrates that your business values its customers and is willing to go the extra mile to make them feel special during this festive holiday.
Incorporating customized Thanksgiving-themed gifts into your promotional strategy is a surefire way to enhance your brand's reputation and customer loyalty during this joyous holiday season.
Practical Promotional Products for Year-Round Use this 2023
Additionally, businesses can consider incorporating practical promotional products for year-round use into their marketing strategies. These products not only serve as a constant reminder of the brand, but they also provide utility to the consumer, making them more likely to keep and use the item.
When choosing promotional products for year-round use, it is important to consider items that are versatile and can be used in various settings. Products like pens, tote bags, carabiner, Vacuum insulated 16 oz tumbler, and water bottles are popular choices as they can be used at home, in the office, or on the go. By personalizing these items with the company logo or message, businesses can increase brand awareness and create a lasting impression on their consumers.
Additionally, offering these products as incentives or giveaways can encourage customer loyalty and repeat purchases, further enhancing the brand's presence in the market.
Expressing Gratitude With Personalized Thank You Items
The use of personalized thank you items is an effective way for businesses to express gratitude towards their customers and clients. Thanksgiving promotional items such as custom corporate gifts can create a festive atmosphere while showing appreciation to loyal customers.
These personalized thank you items can range from branded merchandise like mugs, pens, or tote bags to more unique giveaways like custom-made ornaments or engraved plaques. By giving these thoughtful gifts, businesses can strengthen their relationships with customers and make them feel valued and appreciated.
Personalization adds a special touch to these thank you items, making them even more meaningful. Whether it's a handwritten note or a customized item with the customer's name, these gestures of gratitude go a long way in fostering a sense of belonging and loyalty among customers. Here's the sample:
Unique Promotional Products to Stand Out This Thanksgiving
With a focus on creativity and innovation, businesses can differentiate themselves this Thanksgiving by offering promotional products that are both unique in design and meaningful in message.
To stand out amidst the sea of traditional Thanksgiving-themed merchandise, businesses can think outside the box and come up with unconventional thanksgiving giveaway ideas that capture the spirit of gratitude.
For example, instead of the usual branded pens or mugs, businesses can offer personalized gratitude journals or custom-designed recipe cards that encourage customers to write down their favorite Thanksgiving recipes.
Another unique promotional product idea is to create themed gratitude kits, including items like gratitude stones, thank-you notes, and affirmation cards.
Promotional Products That Foster Customer Loyalty
One effective way to cultivate customer loyalty is by offering promotional products for thanksgiving that cater to their individual needs and preferences.
Thanksgiving promo products can be a great tool to promote your business and show your gratitude to your customers and might be more appealing to the average consumer at a generic time of year.
By offering promotional items that are related to the Thanksgiving meal, you can generate a sense of belonging and make your customers feel appreciated.
Thanksgiving-themed items such as customized aprons, oven mitts, kitchenware, bottle opener, or recipe books can be great options to promote your business and show your gratitude to your customers. You can create a gift package containing all the essentials needed to make the perfect dinner. This prize is great for an online recipe contest that home cooks can use to share their favorite dishes.
These promotional products not only serve as a way to generate brand awareness but also create a lasting impression on your potential customers, fostering customer loyalty in the long run.
Employee Appreciation Gifts for a Memorable Thanksgiving
To ensure a memorable Thanksgiving for your employees, consider giving them thoughtful appreciation gifts. Show your gratitude and make them feel valued with a special gift that goes beyond the ordinary.
A personalized item, such as a custom-made mug or an engraved pen, can serve as a reminder of their hard work and dedication. You can shop for these gifts at a promotional product store, where you can find a wide range of options that suit your budget and preferences.
Everyone loves freebies to save money, since the holidays are a stressful time, so thanksgiving promo items could be handed out at events and conferences, and if they're useful for people that's even better. Things like turkey keychains with your logo printed on them are going to help make the perfect raise brand awareness all year round as people need these items every day.
These Thanksgiving promotional products can be a great way to express your gratitude and strengthen the bond between you and your employees. Make this Thanksgiving a memorable one by showing your appreciation through a meaningful gift.
Promotional Products That Drive Growth and Engagement
Promotional products play a crucial role in driving growth and engagement for businesses. During the holiday season, businesses can take advantage of Thanksgiving-themed merchandise to strengthen their relationship with clients and boost sales.
Winter is coming, so choosing Knitted Beanies with your logo embroidered onto them is going to mean great stylish Thanksgiving swag. Available in a range of colors, these fashionable double-striped beanies are 100% acrylic and perfect for winter activities, outdoor winter sports, hiking, camping, and travel purposes.
A pen, for example, not only serves as a useful tool but also reminds clients of the brand whenever they use it. Similarly, sending out a promotional email with a top Thanksgiving pumpkin pie recipe can create a sense of belonging and engagement. While this was briefly mentioned above, I want to bring more attention to it as its own unique giveaway.
The vacuum-insulated camp cup keeps your drink hot for up to 12 hours and cold for up to 24 hours, which is perfect as a giveaway.
Creative Ways to Show Appreciation on Thanksgiving
Several creative ways exist for businesses to show their appreciation on Thanksgiving. This article section will explore some contextually relevant ideas that not only demonstrate gratitude but also foster a sense of belonging and growth within the business community.
One creative way to show appreciation is by sending personalized thank-you notes or emails to clients, customers, and employees. These heartfelt messages can express gratitude for their support and loyalty, while also acknowledging their contributions to the business's growth.
Another idea is to host a celebration like Thanksgiving-themed event or gathering, where businesses can invite their clients and employees to come together and celebrate the holiday. This provides an opportunity for networking, building relationships, and showing appreciation in a more personal and interactive way.
Let your followers promote your ecommerce store with a social media photo contest. You can make this contest Thanksgiving-themed by having them use your products in their own holiday preparations. Include a branded hashtag and a more generic hashtag like #ThanksgivingDecor.
Additionally, businesses can offer special discounts or promotions on Thanksgiving-related products or services, as a way to thank their customers for their continued support to their shopper.
If you're in the business world and would like to give your customers or clients something at the executive level, a pen is usually a fantastic way to go amongst custom Thanksgiving corporate gifts.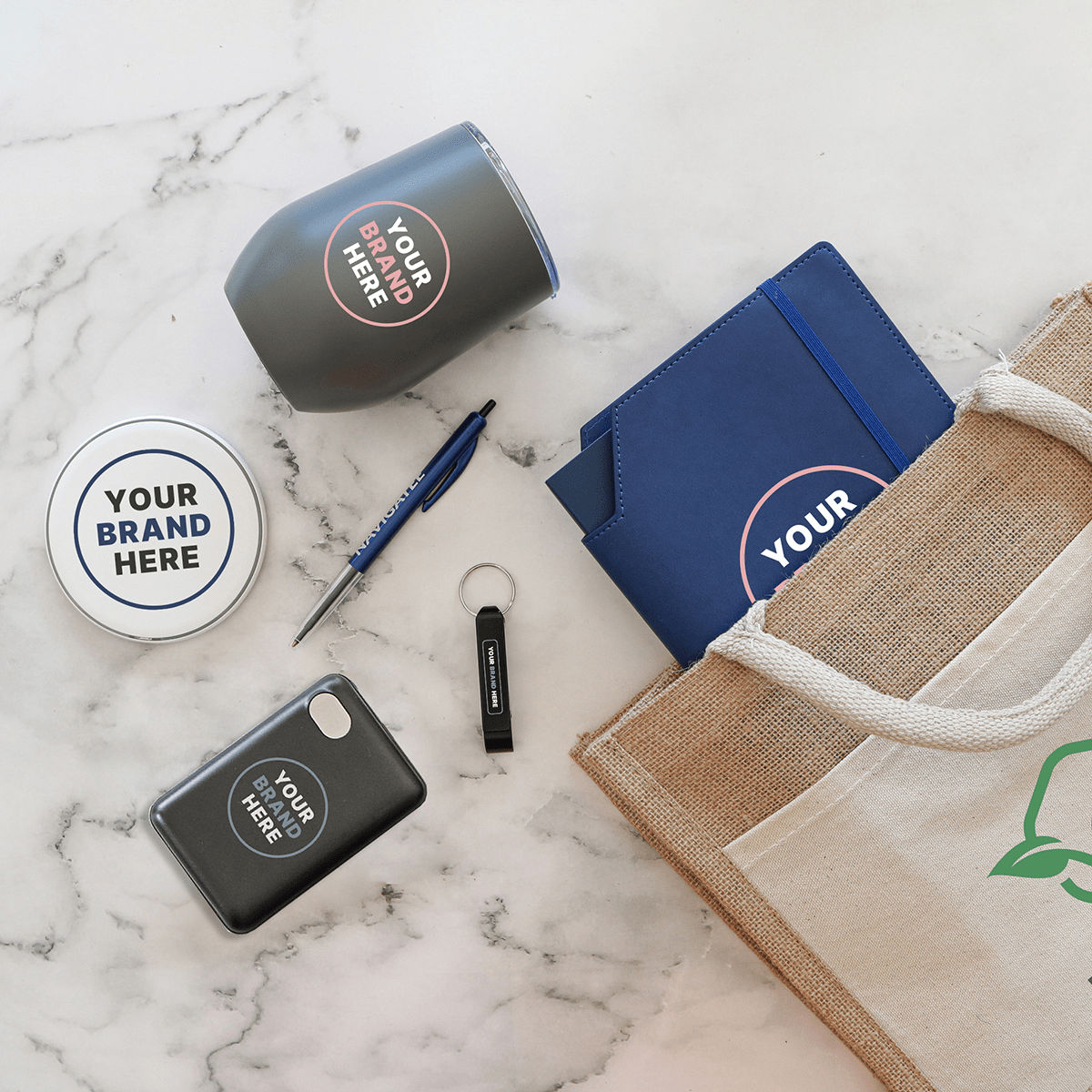 Conclusion
In conclusion, Thanksgiving promotional products offer businesses a valuable opportunity to express gratitude, foster customer loyalty, and drive growth.
By providing customized gifts, practical items, and broader personalized thank-you items, businesses can stand out and create a memorable experience for their customers and employees.
These promotional products not only show appreciation but also serve as a reminder of the business's commitment to their customers' satisfaction.
This Thanksgiving, businesses can creatively show their gratitude and engage their audience, ultimately leading to long-term growth and success.
The highlight message here is clear: if you stock product categories that are directly relevant to thanksgiving, they should be front and center in your marketing messaging.
Shop Promotions Now for all the Thanksgiving giveaway ideas you need to make the most of the holiday season.
We are your source for promotional aprons, turkey-shaped stress relievers, and promo pilgrim hats. Call or email us today for Promotional Products, Wholesale Products, and Custom Giveaways. You can also shop online and get bulk and wholesale prices. We don't want you to miss the promotional products we've been recommending as a thank-you gift to your customers. You can add to cart now!